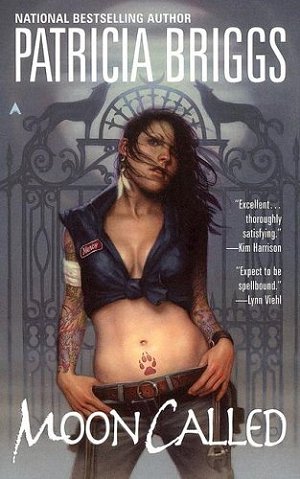 Title: Moon Called
Author: Patricia Briggs
Website of Author:
http://www.patriciabriggs.com
Website of Publisher:
http://www.penguinputnam.com
Genre: Urban Fantasy
ISBN-13: 978-1600107092 Length: 104 pages
Format: Hardcover, Kindle, Paperback Large Print, Audio
Reviewer: Lucille P Robinson
http://www.lucilleperkinsrobinson.com
Alternative-Read.com
Mercy Thompson is a 'walker', a "term derived from "skinwalker," a witch of the Southwest Indian tribes who uses a skin to turn into a coyote or some other animal and goes around causing disease and death." Mercy doesn't use an animal skin to shift into the coyote form and she doesn't run about causing death and disease, although she sometimes leaves death behind. She's an auto mechanic in Kennewick in eastern Washington in a place called The Tri-Cities.
In her condition, she should not be living in the midst of vampires, fae, witches, and werewolves, especially with the werewolf being her greatest enemy, but she is. So when the Alpha wolf's daughter is kidnapped and the Alpha is near death, Mercy, as her name implies, gives merciful care to the Alpha and sets about trying to find the daughter. From here on, the story is much like any other crime story, only the characters are different.
Patricia Briggs explores the problems incurred when magical beings live amongst humans. Discrimination is always at the top of the list for humans have difficulty living around anyone who is different from themselves. Everyone who has studied slavery in the south knows about discrimination. Briggs shows that shape shifters go through the same thing.
As for the magical abilities: Yes, Briggs says, many shape shifters do have magical abilities. Mercy's abilities include sensing whether a person is a shape shifter or human. Mercy can 'feel' a magic spell in the air and can intercept one meant for another. She's also a good mechanic and a martial arts expert. Her knowledge of werewolves, witches, vampires, and the fae people allow her to live amicably with all. 'Moon Called' is a story I found very hard to put down and when I had to close the book, I rushed through my duties as a wife and mother and housekeeper to get back to it. I recommend it to all readers. Young adults will also enjoy it and perhaps the teenager as well. The story has no sex scenes or obscene language that I can remember.
Patricia Briggs
is already a well-known author and published by the big house, 'The Berkley Publishing Group, a division of Penguin Putnam Inc.' 'Moon Called' has been published for a while, but now [when I searched Amazon.com on this Sunday in July 2010] Amazon.com is offering it under IDW Publishing as a hardcover and a Kindle edition. Check it out and while you're there look for the other books in the Mercy Thompson Series. Check out Patricia's website, www.patriciabriggs.com, to see all the books she's written to date.
Author Bio:
Patricia Briggs is the author of the New York Times bestselling Mercy Thompson urban fantasy series. She lives in Washington state with her husband, children, and a small herd of horses.
Also reviewed by:
•
http://www.lovevampires.com/pbmoon.htm
REVIEW: Moon Called | Mercy Thompson Series BK 1 | Patricia Briggs |
Reviewed by
Lucille
on
10:21 am
Rating: